Specials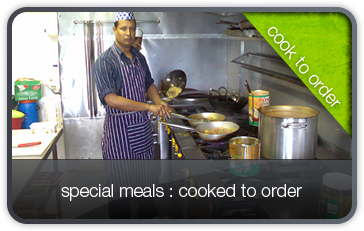 Do you fancy a traditional Indian meal but can't find what you would like to order on our menu? If so, read on…
If you are looking for something a little special - or perhaps something out of the ordinary - and you are unable to find what you would like to order on our menu, our chef will be more than pleased to cook your traditional Indian meal to order*.
Making Your Order Just That Little Bit Special
From whatever region and whatever dish - from Amriti with Rabdi to Kulfi Falooda, Appam to Sakkara Pongal or Barfi to Vada Pav - please call us on 01962 882514 to discuss your order requirements.
If we have the necessary ingredients available, we will do our utmost to accommodate your special order.
*Subject to availability of ingredients and reasonable preparation time(s).